D & M's Maternity and Newborn Workshop
February 8th - 11th 2019 Daylesford
Studio and location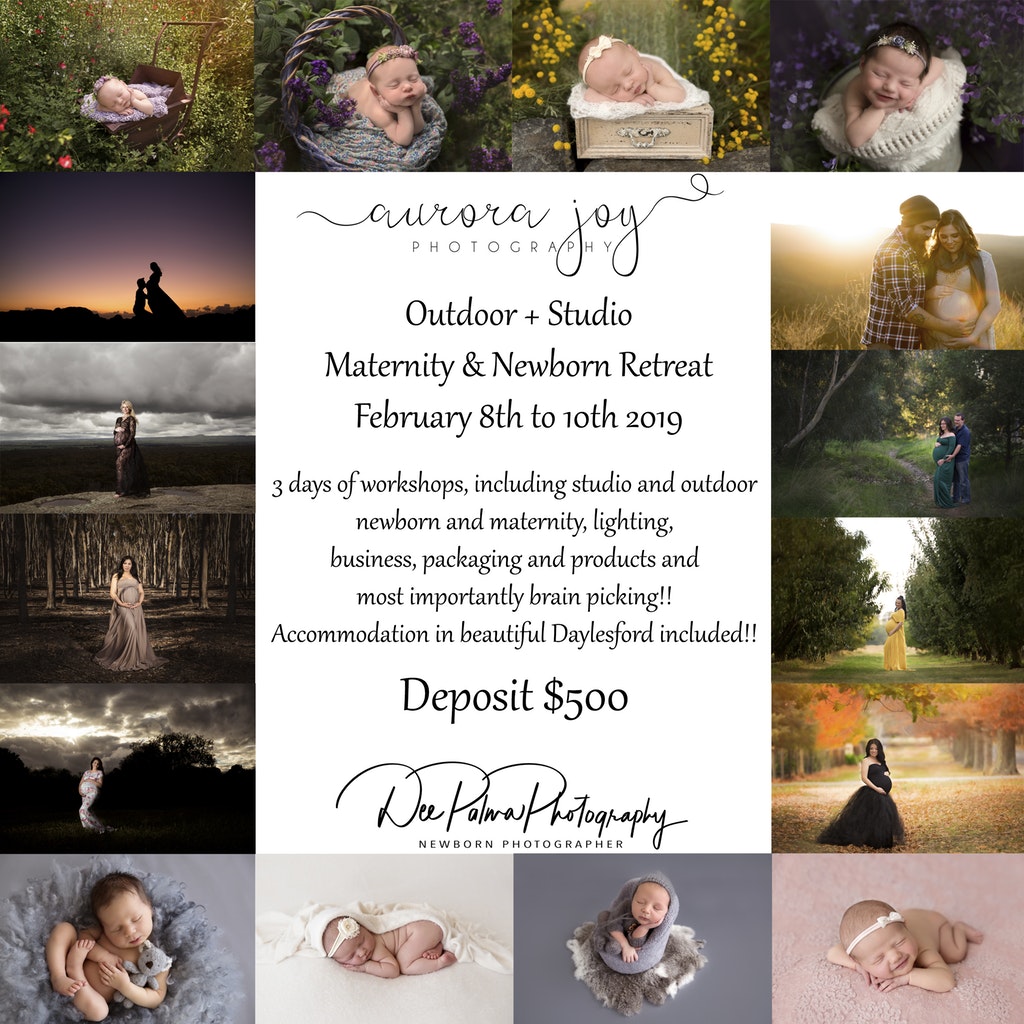 Are you a maternity and newborn photographer who is looking for a workshop that will BLOW YOUR MIND..??!!! Are you wanting to develop your skills and knowledge in not only studio photography but also outdoors? Are you ready to take your business to the next level? Well… This is the workshop you have been waiting for!!
Our 3 Day intensive workshop will focus on both studio and outdoor photography specifically for maternity and newborn. The awesome Dee Palma and Emma Baker have teamed up to create D n M workshops From posing to editing to packaging and all things business. With accommodation included in beautiful Daylesford, this will be an amazing learning and relaxation weekend where you can pick Dee and Emma's brains….. and don't forget the Antique shopping on the Monday at some amazing spots in Daylesford haha.
Victorian Newborn Photographer of the year 2017 and Multi Award winning Dee from Dee Palma Photography will guide you through her client workflow, how she prepares for her studio maternity and newborn sessions, camera settings and angles, white balance settings to get the best SOOC PHOTOGRAPHS, posing as well as post production -from editing to packaging. Dee will be demonstrating studio and natural lighting and off camera flash during her outdoor maternity session, prepare to be WOWED with off camera flash outdoors.
Emma from Aurora Joy Photography, is known for her location newborn photographs and her flare for colour. This award winning photographer is ready to tell you all her tips and tricks and even some secrets to photographing maternity and newborn clients outdoors. Emma will step you through how she prepares, plans and shoots her outdoor work as well as how to create outdoor set ups indoors for those gloomy rainy Melbourne days so that you are still about to create beautiful photographs for your clients.
By the end of this workshop retreat, you will have developed the skills and knowledge to create breath-taking photographs for your clients and take your business further.
Please use the contact me tab and include a basic outline of who you are, what you photograph and your experience with maternity and newborn photography. Once this is received we will issue an invoice for your deposit.
Tuition – PAYRIGHT PAYMENT PLANS AVAILABLE 
1. Deposit: $500 AUD (non-refundable deposit due upon time of booking.
2. Installment 1: $700 AUD installment due 90 days prior to workshop.
3. Installment 2: $700 AUD installment due 60 days prior to workshop.
4. Final Payment: $600 AUD installment due 30 days prior to workshop.
Registration: 
Registration is now open for our February 8th – 11th workshop. $500 deposit is required to register and hold your spot and is non-refundable. Payments are to be made via bank deposit. Once you complete the below form, an invoice will be sent to you for your deposit and then installment invoices will be sent. If you have any questions about registration please email info@deepalmaphotography.com.au
What is included:
Accommodation in Daylesford from Friday 8th February till Monday 11th February 2019. Breakfast, morning tea, lunch, afternoon tea, snacks and drinks included we will be going out for dinners. An amazing workbook that has everything you need to know so that you don't have to worry about frantically writing down what you're learning because it will all be in there! A range of goodies including discount codes, newborn tie backs, outfits, printing samples, album samples a private Facebook group for 3 months to help continue guide you to your success and SOOOOO MUCH MORE.
What you'll need:
A DSLR camera, confidence shooting in Manual mode and have a basic understanding of aperture, ISO and shutter speed. A 24-70mm and a 70-200mm lens or your favorite (Dee and Emma will be shooting only with these so it may be difficult to capture the same look if you use a different lens). Basic knowledge and understanding of ACR and Photoshop. Prop spending money hahahahaha
Attendee cancellation:
Please note that the $500 AUD deposit is non-refundable. If cancellation is made after full payment has been made, you may transfer it to another date (pending availability) if you are able to fill your spot with another attendee, you will be refunded the balance, minus the $500 AUD deposit.
Spots will be filled on a first-come, first served basis. Once registered, you will be emailed (to your below email address) further information followed by a detailed itinerary and goodies that will be sent to your postal address.
Workshop cancellation policy:
Strict minimum and maximum number of attendees apply to the D and M workshop events. An event may be cancelled, postponed or moved to a different date if the number of attendees is less that the minimum number of attendees required. Emma Baker and Dee Palma reserves the right to cancel a paid event due to unforeseen circumstances. If this occurs, confirmation will be sent one week before the event (at the latest) to confirm that the event is still being cancelled, postponed or rescheduled.
Schedule- all times are approximate and will be finalised closer to the event.
Friday February 8th
5-6 meet and greet at the house. Nibbles
7pm sunset session begins.
830pm session ends
Dinner time
Saturday February 9th
Morning approx 10am till 12pm
Two groups. Alternating between studio newborn and outdoor newborn. Camera settings will be discussed at the beginning of each session (this information will be in your workbook) As well as shooting for digital backdrops and creating your own. Photographing awake and asleep newborns.
Lunch approx 12-1
Afternoon session (1) 1-3pm
Rotation to other newborn workshop.
Afternoon tea 3-330
Afternoon session (2) 330-530
Maternity studio with Dee and Emma
Dinner time 530 -730
Sunset session 730 pm till 9pm.
Two groups alternating between natural light outdoor maternity with Emma and off camera flash with Dee.
Chats with Dee and Emma around the fire after the session.
Sunday February 10th
Editing!!!!! 10am till 1pm
We will be running through the editing process of both Emma and Dee. Here is where you ask all the questions you can think of about editing. This can continue over lunch if needed.
Lunch time 1pm-2pm
Afternoon session 2pm-6pm ish the boring but awesome stuff to kick your business into overdrive.
– Branding. Creating desire through your brand. Be you!
– It's all about connection. Connecting with your clients before during and after their session to create a whole experience they will talk about for ever! The little things that make a difference.
– Pricing. Knowing your worth, what to charge. It is not a saturated market everyone can make their business soar you just need to know how and be willing to put the hard work into it.
– Packaging and products. Best places for packaging and developing your own personal packaging that fits you and your brand. Sharing our go to suppliers for prints, canvas, albums and more.
– Bring your pricing and let's have a look together.
– The business of photography marketing.
Time to head to dinner. 6pm
Monday February 11th
Today we dial it down a little, we are going to take you to some local antique stores in search of ideal newborn, sitter and possibly maternity props. We will teach you what to look for when buying props no how to use what you can find in your local gold mines.
Lunch together before heading back to the reality that is life.
Our amazing Vendor Sponsors for this workshop are…
Luisa Dunn Digital Backdrops
Kelly Brown
Annie Murray- business mentoring
INK FX printing
The Photographers Toolbox
A Little Life
LUSH Newborn Photography Props
Set in stone photo props
Handmade headbands by Sarah
My vintage girl
Little Jar Big Dreams